Today I have something very exciting to share. 100 bloggers from around the world have come together to compile a list of 100 fun and easy ways to play and connect with your kids. We all joined together in a blog hop and each day one blogger will share a fun way to have fun and play with your kids. The point is to put off the house work, step away from our phones and computers and connect and spend some time with our kids. I'm always telling myself, they are growing up so fast, don't miss out!
So are you ready to take the 100 days of play challenge?
So when I think of my kids favorite thing to play it's without a doubt, Pretend Restaurant. Even in my classroom it is always the favorite center. My kids love, love, love to play restaurant. They probably play some form of restaurant every other day if not more. Playing restaurant can be as simple or as complicated as you want it to be, you can even build in lots of literacy and math activities. My kids like
to have one person be the "chef" and one person be the "waitress/waiter", and one person is the customer (usually Mommy or Daddy). The waitress takes my order and records it in their notepad and then takes the order to the chef who then makes the food and the waitress delivers it to the customer (Mommy) who then pays for her food. Simple, right? But the kiddos have so much fun. Not to mention the learning opportunities that are integrated in.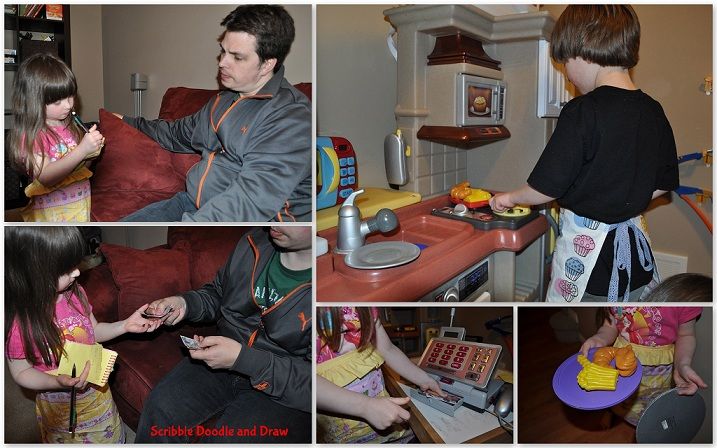 To enhance the play experience you could:
1. Make menus. My kiddos love to make menus. They cut out pictures of food from the weekly flyers and glue them onto a piece of folded card stock. I sometimes write the words beside the picture and sometimes they try to sound out the words. They love to refer to their menus when writing down their orders. It's definitely a fun way to learn.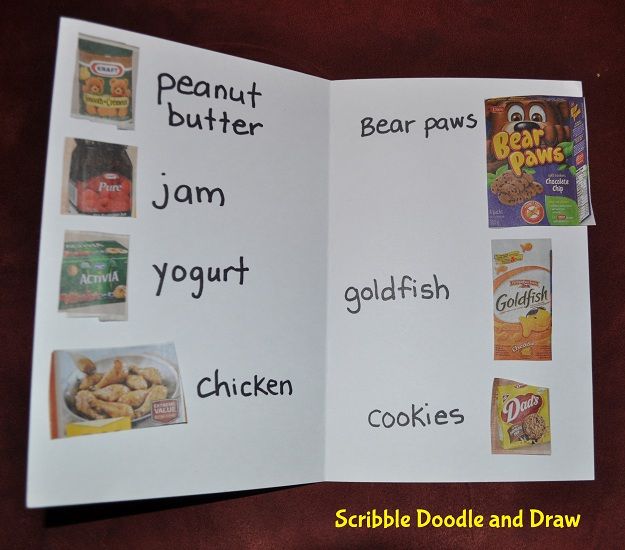 2. Use playdough to make food. If you don't have plastic food you can always use playdough. The kiddos love to take my order then run off and create the food.
Playdough hot dog
3. Use real life samples. We stock our pretend kitchen with empty boxes and containers such as cracker boxes, cereal boxes, and empty bottles of ketchup and mustard. The kids use the boxes (filled with blocks, or rice, or beans) and bottles when they are cooking and pour out whichever food they are cooking.
4. Use real money. We always have a mix of pretend money and real money mixed in our cash register. To challenge the kiddos I sometimes ask for my change to be in quarters or dimes only. It's a great way to throw making change practice while playing.
5. Most importantly take turns with your kids. My kiddos love it when we reverse roles and they become the customers and I become the chef. I usually manage a crazy accent and refuse to cook anything but fancy delicacies such as flies and frog soup, carrot and banana sandwiches, and toe nail tacos!
If you haven't played Restaurant with your kids before I highly recommend it!
Check out more ways to play by following the link:
100 Days of Play is brought to you by these wonderful bloggers